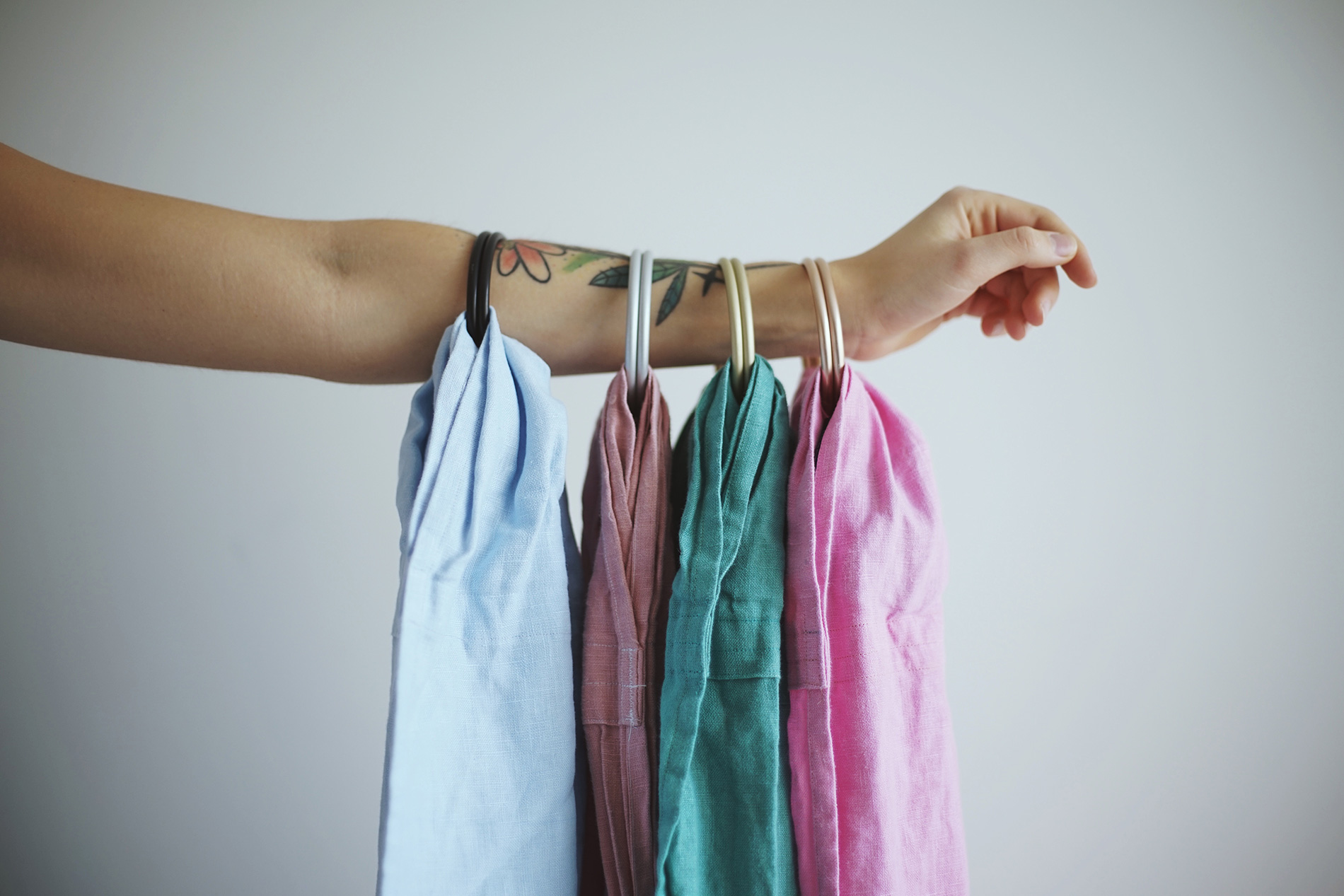 We are a small family brand. One mum and two daughters. Janka, Alica, and Tatiana. Our love for children and fashion gave us an idea to bring style to carrying children. Months of work, studying, learning, cutting, sewing, dyeing, experimenting, carrying children… Hours and hours of hard work have brought us here. Each of us has a role to play and we create a perfect team together. Alica always creates something and she is our "master of dyeing". Tatiana is responsible for all paperwork and because she loves dealing with people so much, every baby is her buddy. Every single "zoya" is created in Janka´s hands. She is the main creator of our slings and she takes care of the best quality of our products.
You might be asking why LINEN ZOYA? While we were growing up, we wanted to have more siblings. Our mum replied with smile that our next sister would be Zoja. And now, when we were creating our common child, we did not hesitate at all. All our slings are our little Zoyas which are part of our hearts. "Linen" was chosen from a simple reason – we love linen. And that is how our little (big) Zoya was created and now it is prepared to become active part of your life.
When Bruno was born in December 2019, everything around us underwent a big change. He gave us a great lesson and assigned us to another direction – clothes for breastfeeding. And so in the spring we came up with our first T-shirts with holes for comfortable breastfeeding.In the meantime, our offer has expanded to include other necessary pieces. And so in our offer you will also find sweatshirts, dresses and comfortable clothes for domestic wear. And let's not forget, that we continue to use all textile residues for the production of accessories.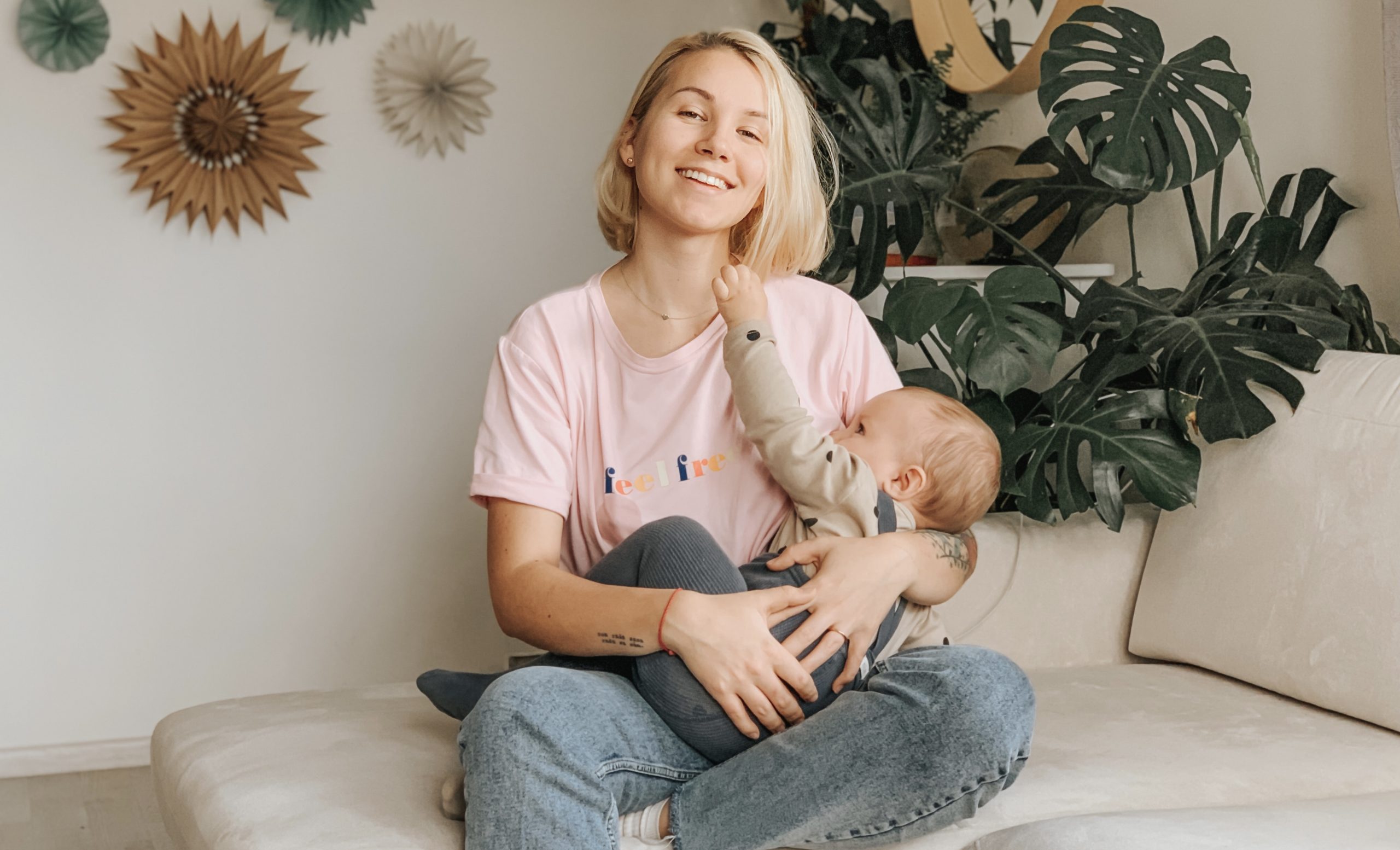 Why choose our Ring Sling?
When carried correctly, the baby is closer to the pre-birth position and they also listen to the heart beat as they were used to. In the correct ergonomic position, the healthy development of hip joints is supported, painful tummy is relieved, and lactation is encouraged. Carrying is beneficial also for mothers – it helps with the involution of uterus, the maintaining of pelvic muscles, and improving physical condition after childbirth. A carrying parent has free hands, the baby is still under their control and parents can reach also the places hard to access. Moreover, the parent and baby produce hormone oxytocin when they are close to each other. That helps create the special bond between them.
MORE ABOUT OUR TEAM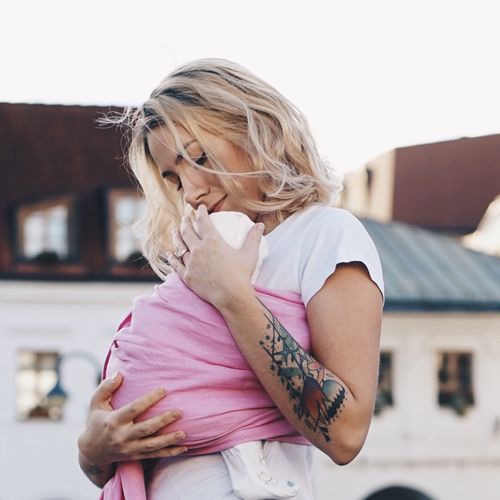 Alica Perényi
I started to love carrying many, many years ago. In fact, when I was a child. I liked the idea of having a baby close to my heart whenever we want it. That motivated me to study and understand the principle of carrying. To know what cannot be seen with a naked eye. Due to this curiosity and understanding that everything is closely related, I decided to become a lactation consultant. I apply all the gained information to a normal life of a baby, a mother and their sling. For me, LINEN ZOYA is not only hard work, it is my dream which came true.
Tatiana Zošáková
Since I was a child, I have liked children younger than me. I looked at them, watched the trends in maternity, admired carrying mothers. So when the opportunity to look after children came, I was very happy. Then my work became my favourite hobby. When Alica had an idea to produce slings, I did not hesitate at all. It was a step forward to get closer to the world of the little ones. And this is the result. LINEN ZOYA is inseparable part of my life, it is actually my first own child.
Janka Zošáková
In fact, starting this project with my kids is only a different form of carrying. It is the opportunity for being as close to your baby as possible. As a mother whose children are already grown up, I can only regret I was not a mum who carried her babies… LINEN ZOYA gives me the opportunity to be even closer to my kids because now we are not connected only by a maternal bond, but also by this beautiful project which gives other mothers the opportunity to enjoy those magical moments of closeness and connection. With every single sling, you get a piece of our hearts, part of our soul, a personal moment of our life, time which we dedicated to something in which we believe and which we truly love. It is something which is worth all our fears and doubts, something which changes our life to something alive and beautiful…